Fire safety is a critical aspect in the design of commercial buildings, especially the proper use of fire rated glass doors.
Buildings are divided into compartments to prevent the spread of fire and these lines of compartmentation often feature fire doors to allow traffic to flow between them. In a fire situation fire doors may (depending on the fire strategy) provide a means of escape, as well as providing built-in passive fire protection to stop its spread.
Good design will prohibit the spread of fire and smoke (to determined time levels) without impeding the movement of goods and people. Therefore, every fire door needs to act as a barrier to fire and/or smoke to varying degrees based on its location and likely fire hazard.
Unlike standard steel or wooden fire doors, fire rated glass doors offer a wide variety of design options to follow the aesthetics of modern offices.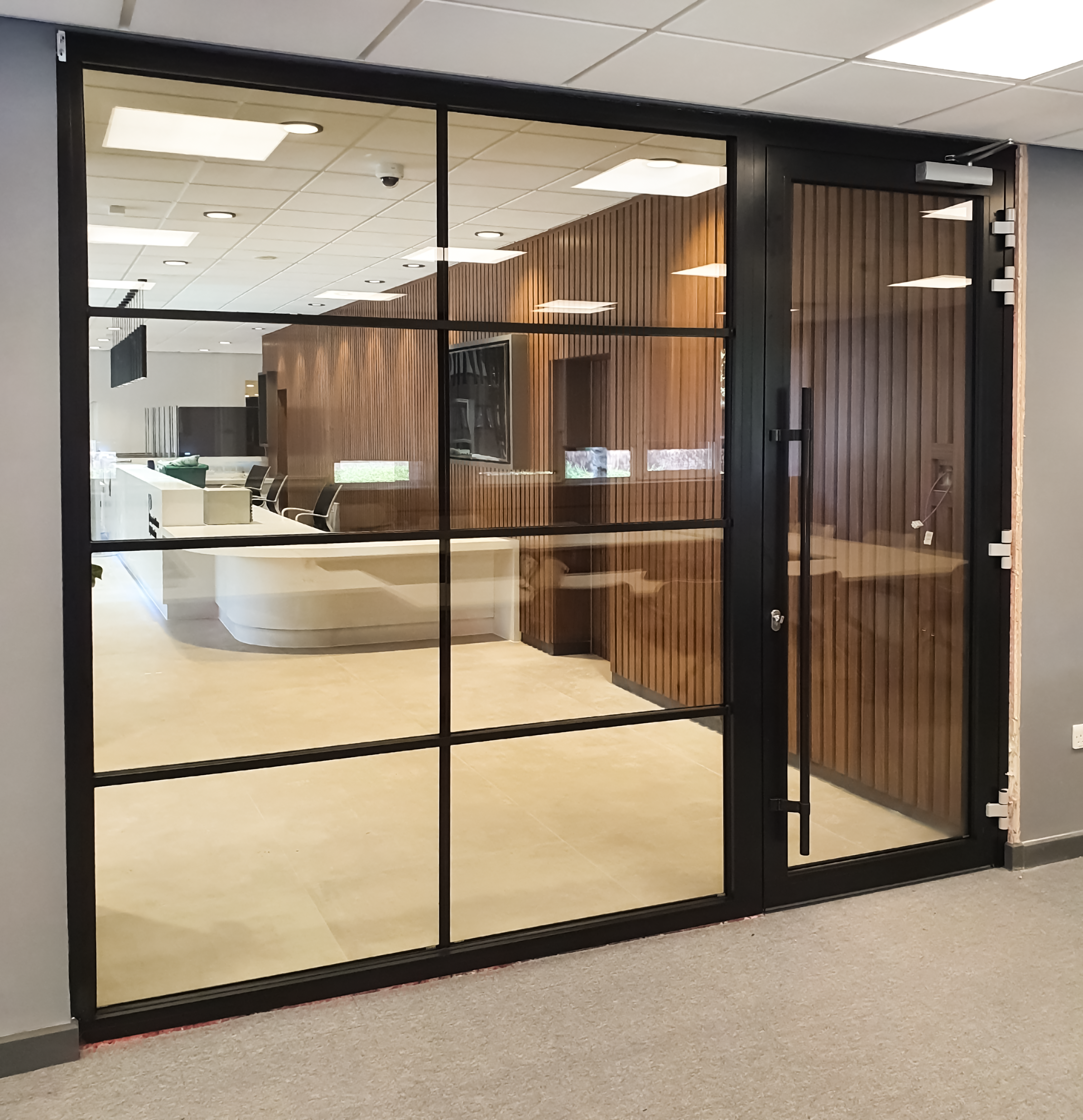 (Fire rated glass door with silicone jointed sidelight)
Fire rated glass doors are an excellent safety measure, allowing modern and elegant appearance whilst providing required levels of fire protection. Compared to steel and timber fire doors, fire rated glass doors control the transfer of heat and promote the spread of natural light, contributing to a healthy working environment, offering greater well-being of users and reduced energy costs.
Fire rated glazed doors and screens are often installed within a building to provide corridor separation and maintain tenable zones, protecting areas of circulation and means of escape.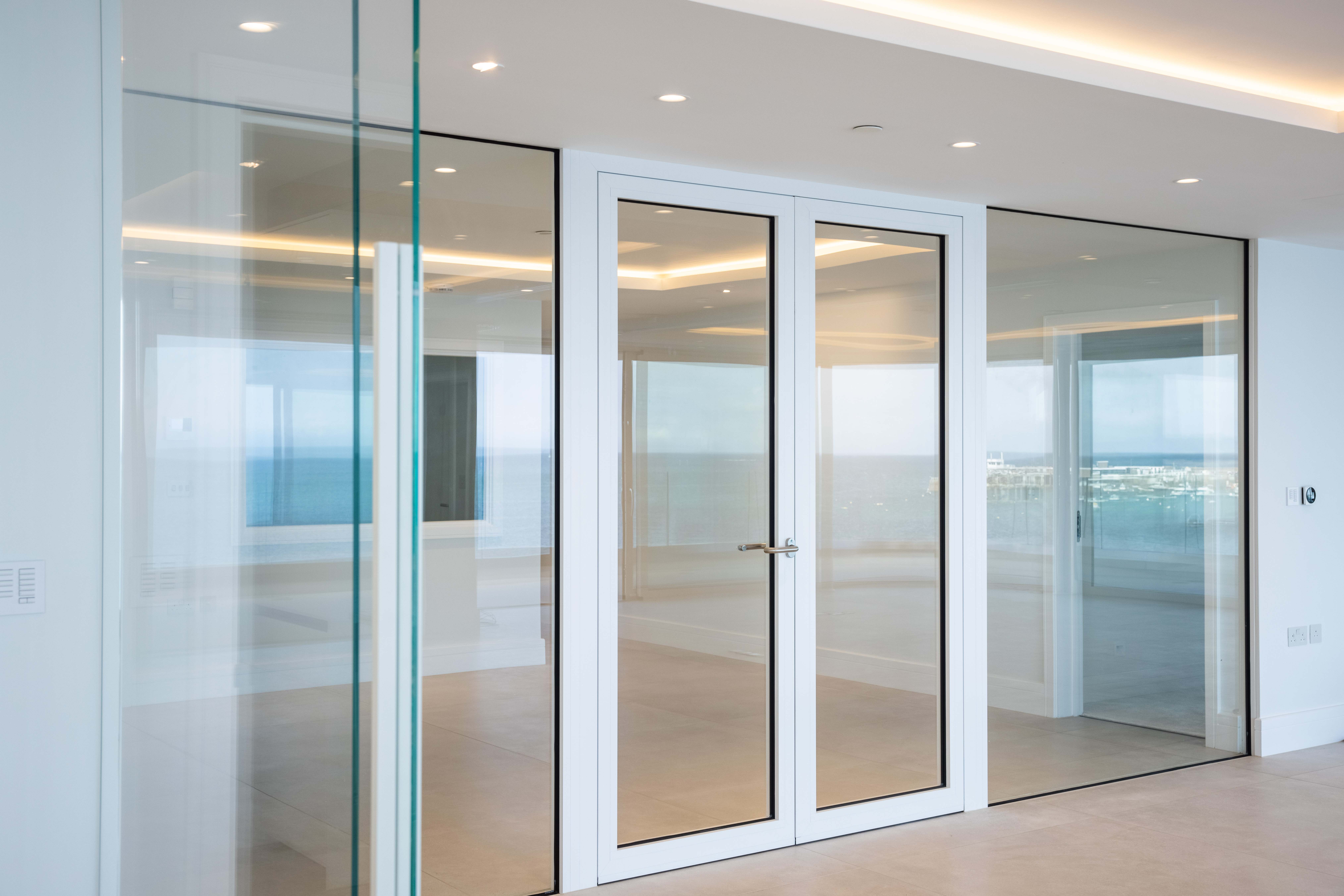 (Project: Former Gorey Castle Hotel)
Fire rated glass doors are subjected to fire tests and a classification determined based on the time achieved before failure of the product.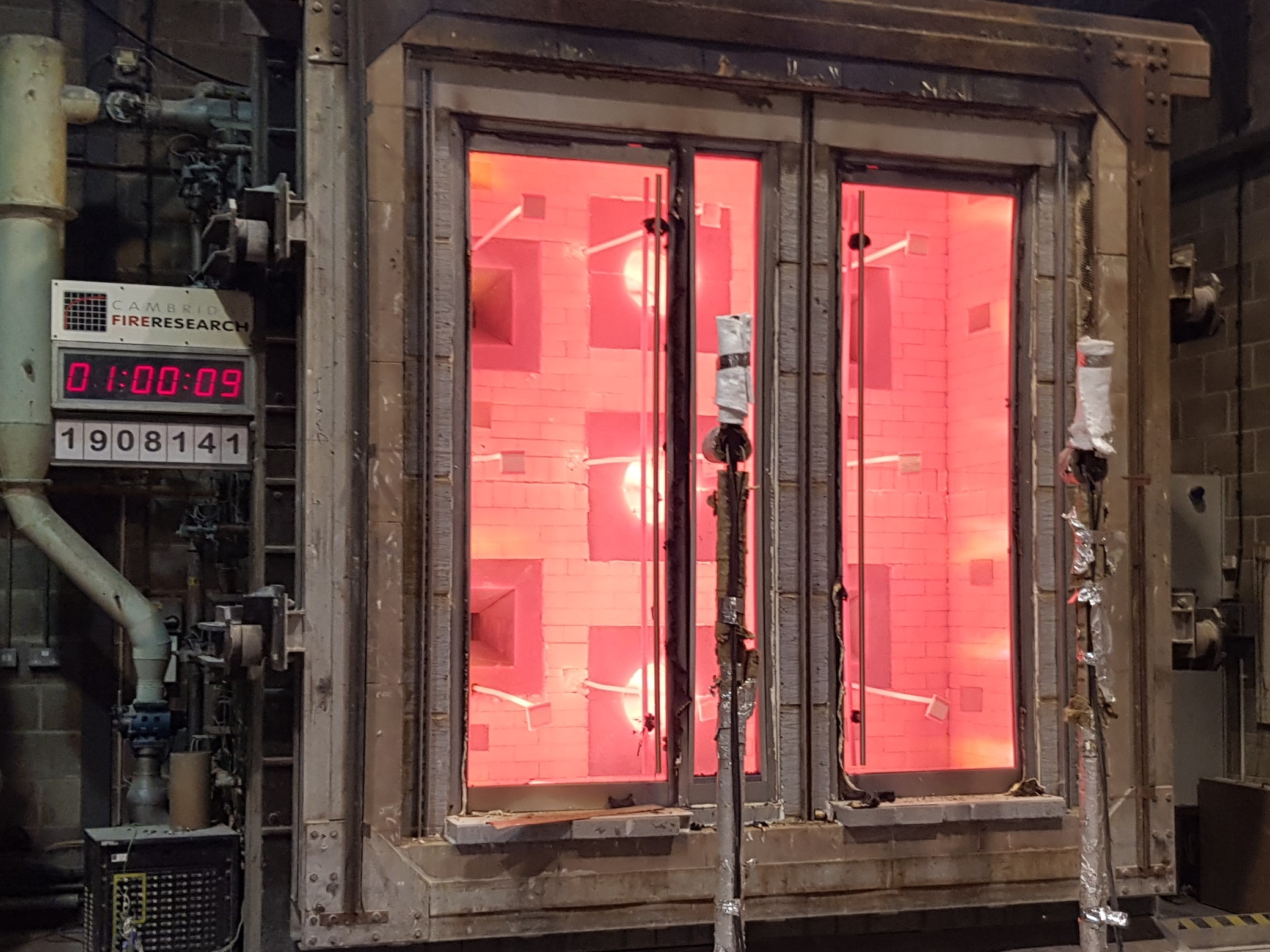 Class E fire rated glass doors
Class E fire rated glass offers integrity only performance. Despite its ability to contain flames and smoke for a certain length, it does not prevent radiant heat from transmitting.
Class EI fire rated glass doors
In addition to providing integrity protection, EI fire rated glass also provides insulation. Besides containing fire and smoke, this classification protects people from heat radiation and makes it much easier to evacuate the building.
We offer products that offer E or EI performance for 30 and 60 minutes and can offer options that will provide up to 2hours fire rating.
Depending on the use and users of the building, doors may be required to offer panic access in line with BS EN 1125 and BS EN 179. Fire rated glass doors can also be equipped with access control and automation hardware and options also exist to enhance the security performance of the doors.
While specifying fire rated glass is a complex subject, it doesn't have to be a problem. OWS Fire Rated is one of the leading suppliers of fire rated glass doors in the UK and our team of experts take great pride in providing compliant solutions offering you peace of mind to specify and deliver with confidence.
Speak to us about your next project and let us provide you with great looking doors to meet your fire safety performance requirements
Share article